---
Mkungo, Diriba Win 2017 PRRO Championship Presented by EQT Pittsburgh 10 Miler
Diriba also earns $10,000 PRRO Super Bonus; $13,000 PRRO Championship bonus money awarded in the City of Champions; Publix Gasparilla Half Marathon opens 2018 Circuit racing season on Sunday, February 25
PITTSBURGH - (November 9, 2017) - On Sunday morning November 5th under cool, damp conditions, the 5th EQT Pittsburgh 10 Miler hosted its first PRRO Championship, and Panuel Mkungo of Kenya and Buze Diriba of Ethiopia won PRRO crowns in 47 minutes, 3 seconds and 52:11, respectively, and each took home $4000 as race winners. The event offered $26,200 in Open and American prize money.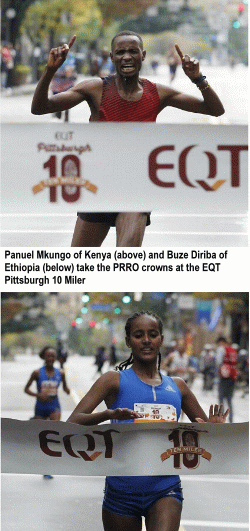 With the annual Steel City fall classic event presenting the 22nd PRRO Championship, Diriba, 23, who three-peated at the road race, also earned the $10,000 PRRO Super Bonus. Diriba was eligible for the bonus because she won two 2016-17 PRRO Circuit events (last year's Pittsburgh 10 Miler and the 2017 Lilac Bloomsday 12K). Mkungo, also 23, won the $2500 PRRO Champion bonus because per Circuit rules he did not win a 2016-17 Circuit event.
"There was some great racing in Pittsburgh, producing two outstanding champions," said Don Kardong, Professional Road Running Organization (PRRO) Circuit President. "The EQT Pittsburgh 10 Miler has clearly grown to become one of the nation's top road races."
Also at the PRRO Championship, $3000 was paid out in PRRO Event Champion's Bonus money for PRRO Circuit 2016-17 event winners - see Circuit summary further below - who also earned Open prize money in Pittsburgh. NOTE: An athlete who wins the PRRO Super Bonus is not eligible for the PRRO Event Champion's Bonus.
$1500 bonus winners (one Circuit win before the EQT Pittsburgh 10 Miler):
Silas Kipruto, $1500, male runner-up, 47:11
Stanley Kebenei, $1500, male 8th, 47:45
Boilermaker 15K: The PRRO Championship July 10, 2016, Utica, NY
Teshome Mekonen, Ethiopia, 43:58
Cynthia Limo, Kenya, 48:50
EQT Pittsburgh 10 Miler, Nov. 6, 2016, Pittsburgh, PA
Leonard Korir, USA, 47:13
Buze Diriba, Ethiopia, 51:38, course record
Credit Union Cherry Blossom Ten Mile, Apr. 2, 2017, Washington, DC
Stanley Kebenei, USA, 46:36
Hiwot Gebrekidan, Ethiopia, 53:37
Lilac Bloomsday Run 12K, May 7, 2017, Spokane, WA
Gabriel Geay, Tanzania, 34:31
Buze Diriba, Ethiopia, 40:19
40th Boilermaker 15K, July 9, 2017, Utica, NY
Silas Kipruto, Kenya, 43:55
Mary Wacera, Kenya, 49:18
5th EQT Pittsburgh 10 Miler: The PRRO Championship, Nov. 5, 2017, Pittsburgh, PA
Panuel Mkungo, Kenya, 47:03
Buze Diriba, Ethiopia, 52:11
The PRRO Circuit 2016-17 opened on November 6, 2016 at the EQT Pittsburgh 10 Miler. The PRRO Circuit showcased world class competition at 4 classic American road race events shorter than the marathon distance and featured more than $260,000 in prize money overall with $74,900 available for U.S. athletes.
New PRRO Circuit member, the Publix Gasparilla Half Marathon in Tampa, FL, opens the 2018 racing season on Sunday, February 25.
To-date, PRRO Circuit events have produced 17 world and 17 U.S. road records, awarded more than $7.1 million in prize money and seen more than 2.3 million runners cross their finish lines. In addition, since 1996, the PRRO Championship race has paid out more than $1.7 million including $134,500 in PRRO Championship bonus money.
The PRRO Circuit, a long-time pioneer and champion of a clean sport, has funded drug testing at its events since 2006. During the 2015-16 season, USADA conducted more than 50 in-competition tests and an undisclosed number of pre-competition tests.
PRRO Championship and Circuit Year
The PRRO Circuit, launched in 1995, rotates among the PRRO Circuit races with the Circuit Year starting and finishing at the same event. The winners of 2016 PRRO Championship at the Boilermaker, followed by the winners of the four events on the 2016-17 Circuit, serve as qualifiers for the PRRO final at the 2017 EQT Pittsburgh 10 Miler.
In February 2017, the Publix Gasparilla Half Marathon joined the PRRO Circuit 2017-18 to become the 5th Circuit event member. The Credit Union Cherry Blossom Ten Mile will host the PRRO Championship 2018 on Sunday, April 8.
Visit PRRO.org for more information, including PRRO's history, as well as how to join the PRRO Circuit.